VITAPAN PLUS® Anterior
For youthfully vibrant dentures with added translucency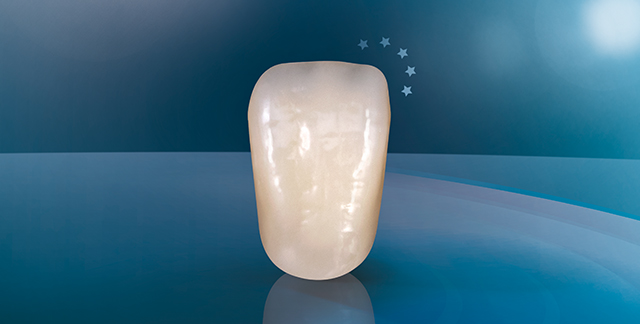 Lifelike, premium anterior teeth made of MRP composite with added translucency.
lively play of light
thanks to extraordinary translucency from the high proportion of enamel
easy reconstruction of youthful esthetics
thanks to three-dimensional lifelike tooth moulds
excellent durability
thanks to high load capacity and abrasion stability
efficient grinding and polishing
due to optimum material homogeneity and edge stability
Best prosthetic solution for:
Full dentures
Partial dentures
Temporary dentures
Implant-borne prostheses
Telescopic and conus restorations
Attachments and model casting prostheses
28 x VITA SYSTEM 3D-MASTER® shades 0M1, 0M3, 1M1–5M3
15 x VITA classical A1–D4® shades A1–D4 (without B1)
18 x upper anterior tooth moulds (divided into four mould groups)
6 x lower anterior tooth moulds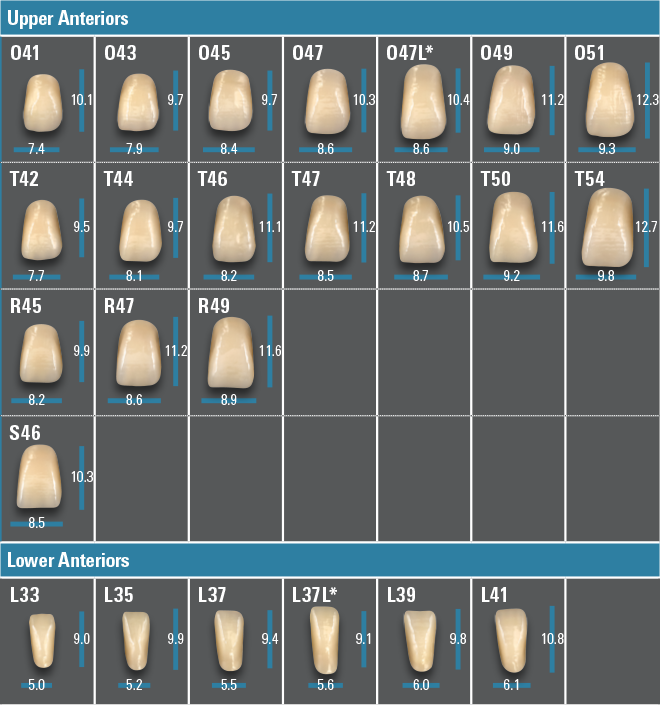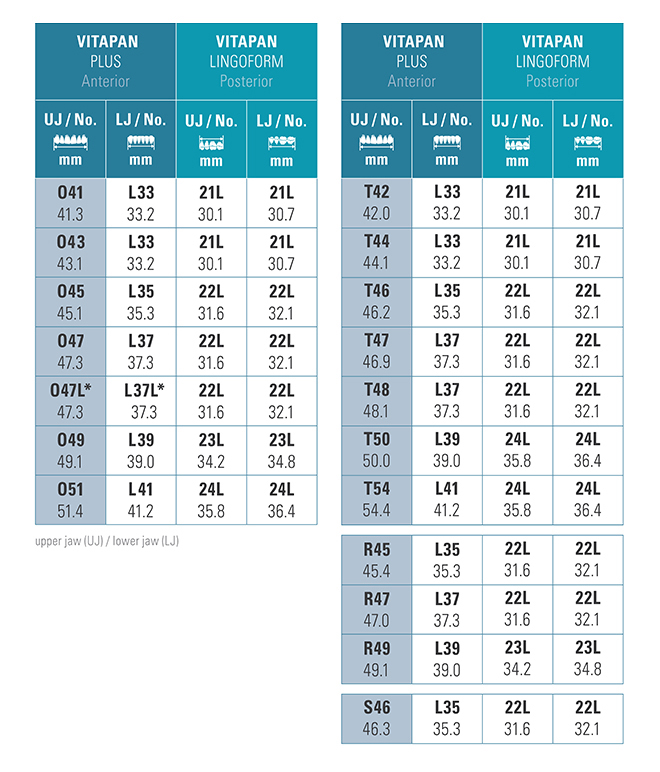 VITAPAN PLUS® Anterior kits
VITAPAN PLUS tooth storage
X-small*: 67 Sets / 402 Anteriors
Small*: 134 Sets / 804 Anteriors
Medium*: 268 Sets / 1608 Anteriors
Large*: 400 Sets / 2400 Anteriors
Available in VITA classical A1–D4® and VITA SYSTEM 3D-MASTER® shades.**
*) Note: You will receive the most frequently used moulds and shades along with the packaged tooth storage. We are also happy to put together storage systems according to your individual specifications.
**) see available shades
VITAPAN PLUS mould chart
Metal case with all moulds for selecting teeth:
VITAPAN PLUS Anterior
VITAPAN PLUS Anterior and VITAPAN LINGOFORM Posterior
Easy download for multiple documents
Download a .zip file containing all the selected files in a single step.
Simply tick the files then click here.